Exsto
Create unique digital art on your iPad.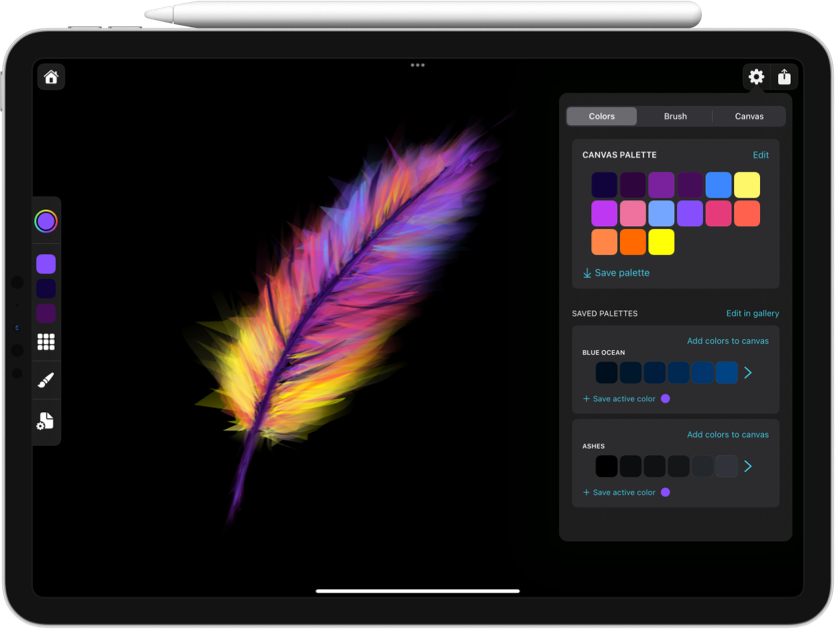 Explore your artistic potential with Exsto. Design fantasy characters, produce impressive illustrations and explore your creativity. You don't even need a plan. Just start drawing and see where you end up.
Take a look at our GALLERY for art inspiration and drawing tutorials.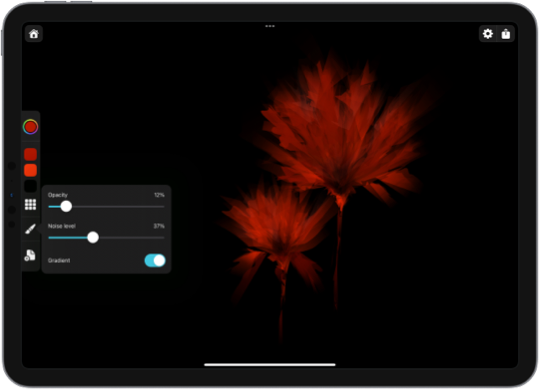 Unlock your creativity with a unique free-flowing brush
Exsto's unique brush produces free-flowing noisy strokes instead of strict lines, which lets you start drawing without hesitation and see the shapes and forms emerge in the process.
Brush adjustments are very simple. Choose the opacity level and the noise amount that should be used. Increase the noise for more random abstract shapes or decrease it to fine-tune the drawing. When the gradient setting is activated, the shapes have a beautiful fade out effect.
Exsto intentionality doesn't have the undo functionality. It is designed to encourage you to experiment and find shapes and forms among the noise. Try changing colors, opacity, noise level, toggle the gradient and see what comes out of it. Once you are happy with the result, you can export your drawing to use it as it is or to take it to another digital art tool to finalize.
Create mirrored drawings with the symmetry guide
The symmetry guide lets you create perfectly symmetrical drawings by automatically mirroring everything you draw on one side of the guide onto the other side. It can be particularly useful for finding the form of your fantasy characters, as well as drawing naturally symmetrical objects such as butterflies.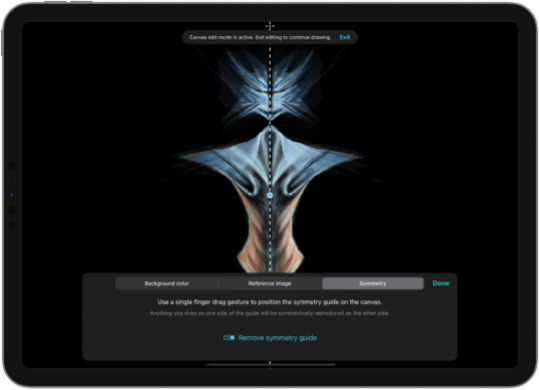 Exsto provides an infinite canvas, so you don't have to decide on the art dimensions before you start. The symmetry guide will move together with your drawing as you pan and zoom on the canvas. It can also be repositioned in the cavas editing mode with a single finger drag.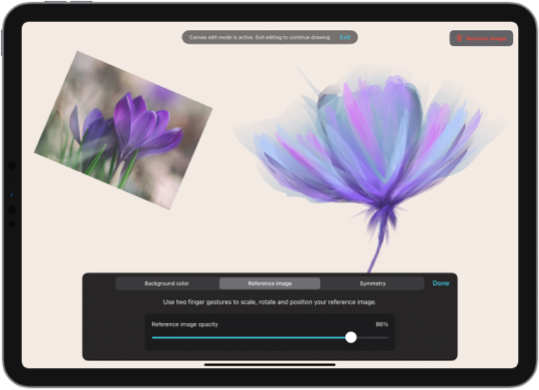 Import reference images for tracing or color picking
You can import a reference image and place it anywhere on the canvas. Use it to pick your color palette, trace it or simply keep it visible for inspiration.
Exsto lets you draw in full screen as well as in split screen on iPad. You can have another window with a different application open at the same time and consult your reference image there without the need to import it. You can also have two different Exsto canvases open side by side.
Manage color palettes in a dedicated view
Colors used in the app can be managed in a dedicated palette gallery where you can add new palettes and colors, and move colors between palettes. These app-wide palettes can be used when drawing on any canvas.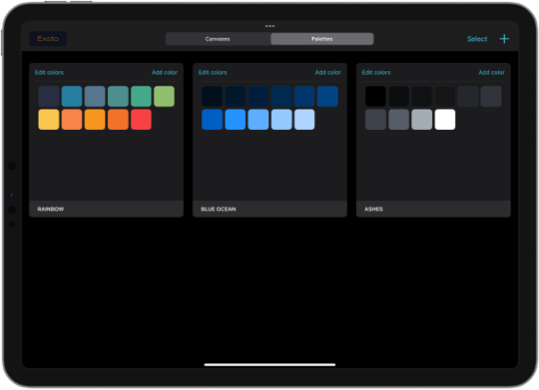 When you use a color for drawing, it automatically gets saved to the canvas palette. You can augment the canvas colors from the application level palettes, edit it and save. Saved palettes appear in the palette gallery and can be accessed from other canvases.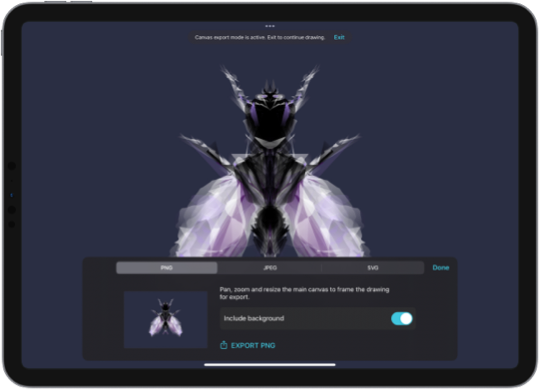 Export your art as a PNG, JPEG or SVG
Exsto supports exporting your art in PNG, JPEG and SVG format. You can reframe the drawing before exporting a PNG or JPEG, and choose whether to include the canvas background color in the PNG export.