Exsto Press Kit
Share the story of Exsto and encourage more people to embark on a journey of creative self-discovery.
Download Press Kit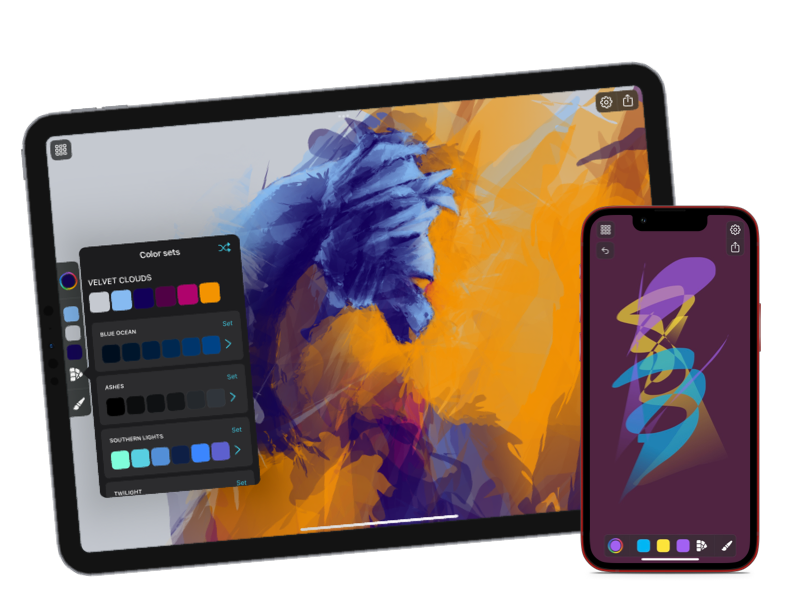 App Name
Exsto
Developer
Developer location
Wānaka, New Zealand
Launch dates
Version 1.0: 21 December 2022
Version 2.0: 16 May 2023
Version 3.0: 18 September 2023
Key contact
App Store URL
https://apps.apple.com/app/apple-store/id6444933770
Platform Requirements
iPadOS 16.1 and higher
iOS 16.1 and higher
Pricing (in USD)
Free to download and enjoy for a few days.
Exsto Unlimited: $12.99 one-time purchase or subscription at $0.99/month & $4.99/year.
Check the local App Store for pricing in other currencies.
App Description
Embark on a serene artistic journey with Exsto, exclusively available on iPad and iPhone. Dive into a zen experience, and create unique digital masterpieces with ease.
Relax and create with Exsto
Exsto revolutionizes your artistic experience, turning it into a zen and de-stressing pass-time. Witness the creation of unique organic shapes with each stroke and get inspired.
Discover spontaneous art and tranquility on iPhone
Exsto on iPhone brings art and relaxation right to your pocket, allowing for spontaneous bursts of creativity and zen moments, anytime, anywhere. Grant yourself a few precious minutes to breathe and escape into a world of imaginative shapes and colors in the midst of a busy day.
Make art right on your Home Screen with the new interactive widget
Add a touch of creativity to your day with the new 'Creation of the Day' widget. Each tap from the Home Screen adds a new stroke to the widget, allowing you to create a unique abstract artwork throughout the day. It's a fun way to take a break and add a splash of color to your daily routine.
Collaborate on artworks with SharePlay
Exsto now supports SharePlay, allowing you to share your canvas with others in real-time. Collaborate on a creation, share your creative process, or simply enjoy a relaxing and zen drawing session with friends and family, no matter where they are.
Experience the natural feel and control of the Apple Pencil on iPad
Exsto's seamless Apple Pencil integration on iPad provides exceptional control over your exploration, allowing you to guide organic shapes with pressure changes and tilt adjustments.
Celebrate your masterpieces and inspire others
Exsto allows you to share your creations by offering easy export options in PNG, JPEG, and SVG formats. Showcase your artworks on social media, print them, or use them in digital projects, all in high-quality.
Exsto proudly stands as a native Apple platform application, constructed on the cutting-edge frameworks of Metal and SwiftUI. This technical foundation ensures Exsto delivers a fluid and high-performance experience that fully leverages the capabilities of your device. Our commitment to harnessing the latest technologies translates into an art creation tool that's powerful and deeply intuitive.
About the developers
Exsto was created by a small team of two software developers, Natalia Panferova and Matthaus Woolard. This husband and wife team met each other in Europe right after graduating from University in 2013. They now live in Wānaka in the South Island of New Zealand with their flat-coated retriever, Phoebe.
Natalia studied pedagogics and linguistics, pivoting to technology shortly after graduation while also exploring opportunities in the computational linguistics field. She then worked as a web developer before discovering her passion for Swift and iOS.
Matthaus has a background in mathematics and machine learning. He also was a data scientist and a full stack developer earlier in his career.
After living in a few different European countries, such as Ireland, Germany, and France, Natalia and Matthaus wanted to explore more of the world and decided to come to New Zealand. They first settled in Christchurch and worked in local tech companies.
Whilst building iOS applications, Natalia started a blog to share her learnings with other developers across the world in 2020. Her passion for the SwiftUI framework is obvious in the numerous posts which soon had quite a following. In fact, it got discovered by the members of the SwiftUI team at Apple who subsequently informed her they were hiring for an engineering role where she could be part of the team that develops the framework.
Natalia landed the job and given the pandemic, worked remotely from New Zealand. She loved designing SwiftUI APIs (Application Programming Interface) and especially enjoyed working with talented people across different teams at Apple. When asked to join the team in person and relocate to Cupertino in the US, she did some soul searching and realized how New Zealand had become her home and where she wanted to do her best work. She also missed blogging and building her own apps.
In 2022, Natalia joined Matthaus as a co-founder of their own company, Nil Coalescing. It wasn't long before they supported themselves through contract work, consulting and their software development blog. Natalia also wrote her highly regarded book which helps developers to start using SwiftUI in their existing UIKit projects called Integrating SwiftUI into UIKit Apps.
And then it was their turn to build their debut app for their own company. "Exsto", Latin for "I standout, I exist, I appear" was born. Exsto inspires people to discover their creative powers and turns their artistic experience into a zen and de-stressing pass-time.
Natalia and Matthaus both like sketching and painting to relax but often feel stuck when trying to plan their artworks in advance. They designed Exsto to help aspiring artists like themselves overcome that quandary, and to help them immediately enjoy the process.
In early 2023, Natalia was accepted into the Apple Entrepreneur Camp, a one-on-one technology lab for underrepresented founders and developers with app-driven businesses. Here, Natalia and Matthaus received a lot of great advice from Apple designers and engineers. Exsto version 2.0 incorporates much of their learnings, with a greater focus on spontaneous creativity with ready-to-use color sets, and simplified tools and settings. Technologically wise, the updated application contains Exsto's first Metal-powered implementation, bringing significant benefits of hardware-accelerated graphics that tap the full potential of Apple silicon. This is now available on the App Store.
Natalia and Matthaus are dedicated to continue evolving Exsto and to bring joy and creative inspiration in the lives of more people.
Exsto 3.0
SharePlay support for collaborative creation with friends and family
`Creation of the Day` interactive widget that lets you make abstract art right on your Home Screen
Tips throughout the app to help you make the most of Exsto
Exsto 2.1
iPhone support
Canvas export and import for moving and editing artworks between devices
Undo and redo button and a toggle in settings to hide it for focused creativity
New pricing model: now you can try Exsto for free before you commit
Exsto 2.0
Interactive introduction tutorial to get you started on your creative journey
Automatically picked color sets for new canvases to let you jump straight into creating
Better performance when panning and zooming large canvases powered by Metal not to limit your creative flow
Subtle stroke changes responding to Apple Pencil tilt and pressure to give you more control
Adjusted rendering in response to low power mode and critical thermal state not to overwhelm your device
Improved support for reduced motion accessibility setting to respect your device settings
Download Full Press Kit
Includes more screenshots (framed and un-framed), art, hero banners, icons and description text files.